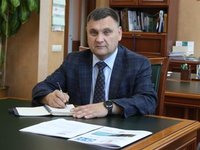 I'm happy to greet you as the Rector of one of the largest and oldest technical universities in Siberia.
Polzunov Altai State Technical University is one of the largest universities in Western Siberia.
Every year, about 2,000 young specialists graduate from the university. They have professional multi-level training in a number of academic programs.
Modern higher education institution cannot be more effective without strong association and cooperation with foreign partners. AltSTU implements training programs for international students, administers joint programs in education with partner universities in England, France, Germany, Spain, Greece, Austria, China and Mongolia. AltSTU science and education projects are given the priority.
Altai State Technical University has always had strong commitment to world-class training for about 30 years. AltSTU international students become well-educated and professionally highly-skilled. Each year, the University meets more than 20 delegations of embassies, missions, organizations of foreign countries in order to discuss the issues of cooperation in science and training of foreign nationals. AltSTU successfully operates centers of French, Chinese, Kazakh language and culture.
I am confident that the cooperation of our University with foreign and Russian partners will continue and develop dynamically in future.
Welcome to our University!
Rector
Andrey Markov